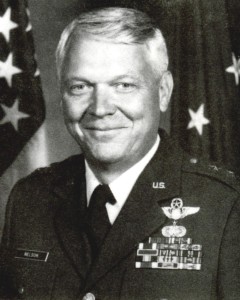 EARLY LIFE AND EDUCATION
Retired Air Force Major General Nelson was born in 1935, in New York City. General Nelson earned a bachelor's degree in aeronautical engineering from New York University in 1956.  He then went on to earn a Master's Degrees in Business Administration from Auburn University and Astronautics from the Air Force Institute of Technology.  While at New York University, General Nelson met his wife, Eleanor.
MILITARY CAREER
General Nelson received his commission through the Reserve Officer Training Corps program and then completed pilot training at Spence Air Base, Ga., and Bryan Air Force Base, Texas. He completed advanced fighter-interceptor training at Moody Air Force Base, Ga., in 1958. The general served with the 324th Fighter-Interceptor Squadron, Sidi Slimane Air Base, Morocco, until 1960, when he became an intercept controller with the 603rd Aircraft Control and Warning Squadron at Texarkana Air Force Station, Ark.
In 1961, with 11 others, he started Aerospace Defense Command's 1st Aerospace Control Squadron, chartered with the responsibility of detecting and identifying all space objects. After receiving his master's degree from the Air Force Institute of Technology, he was assigned to the 9th Aerospace Defense Division, Ent Air Force Base, Colo., in charge of a major upgrade and checkout of the Air Force's spacetrack system.
In 1967 General Nelson transferred to the 354th Tactical Fighter Squadron, Takhli Royal Thai Air Force Base, Thailand, and flew 100 combat missions in F-105s over North Vietnam. Upon his return to the United States in 1968, he was assigned as an assistant and associate professor of mathematics at the U.S. Air Force Academy, Colo.
In 1974 he was assigned to Aeronautical Systems Division, Wright-Patterson Air Force Base, Ohio, as chief of its Information Engineering Division, its center of expertise for avionics computer hardware, software and controls and displays.
Upon graduation from the Air War College in 1978, General Nelson was assigned to the Electronic Systems Division, Hanscom Air Force Base. After a tour of duty as director of computer systems engineering, he served as Air Force deputy program manager for the Joint Tactical Information Distribution System. In 1979 he became the system program director for advanced tactical communication systems.
The general was chief of staff, Headquarters Air Force Systems Command, Andrews Air Force Base, Md., from 1981 until July 1984. He then became deputy chief of staff for plans and programs, and in January 1987 was assigned as deputy chief of staff for systems. He returned to Hanscom as vice commander of the Electronic Systems Division in October 1987, and was there until he retired in 1991.
IMPACT ON SPACE COMMAND
Major General Nelson was part of the first team selected for space operations destined for Cheyenne Mountain in Colorado Springs, CO; though the Air Force did not call the mission area 'space operations' at the time.  This selection of individuals was born out of the Ground Intercept Controller group under Air Defense Command and carved a lasting space legacy for Satellite Detection and Tracking, which is part of the Air Force's Space Situational Awareness core mission carried by the Joint Space Operations Center located at Vandenberg AFB, CA today.